Manual Roll Cutter
The manual roll cutter is a slitter suitable for all types of textiles (cotton, linen, silk, polyester, acrylic, spandex, nylon, polyamide, plush, denim, leather, stretch, 3D three-dimensional fabric), non-woven and felt (TST nonwoven, TNT, nonwoven), vinyl, banners, canvas, fibreglass. …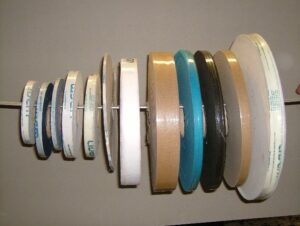 The roll cutter is available in widths of up to 6,000mm and is capable of cutting up to Ø500mm diameter rolls.
The cradle rollers come with an adjustment system which allows perfect spacing support for the material to be cut from the smallest to the largest diameter rolls.
The manual roll cutter is specially fitted with a built-in cutting head for easy sharpening whenever it is required.
Similarly, it integrates a blade lubrication system that allows the cutting of fuses or fusible materials, such as nonwoven (TST and TNT nonwoven fabric), polypropylene, polyester and plastics.
The machine includes a measuring device which indicates the exact position of the cutting head. This allows the operator to perform a precise cut without the need of external measuring elements.
These models can be converted to semi-automatic slitting machines that work in two modes:
Manual positioning and automatic cutting by pressing a button.
Automatic positioning to a scheduled measurement and manual cutting.